Yes, I know it's now June, but I decided that I'm finishing up with Alexander McQueen as the Designer of the Month and then putting it on hold for the rest of June. Because June has officially been dubbed "The Month of Weddings." We have a wedding every weekend except for the last, which just so happens to be our own anniversary. So travel is the name of the game, which leaves a lot less time for the type of research I tend to like to do for my Designer of the Month. This week, however, I'm happy to report that I finally went to see
Alexander McQueen: Savage Beauty
at the
Met
, and boy was it worth the wait. And good news for all of you who haven't seen it yet: it's been extended through August 7th.
Alexander McQueen is the type of designer who inspires very strong emotions in both his advocates and detractors. Regardless of whether you love him or hate him, however, there's no denying the fact that
Alexander McQueen: Savage Beauty
, on display now through August 7 at the
Metropolitan Museum of Art
, is a spectacle worth attending.
The most interesting thing about seeing McQueen's entire life's work - about 100 pieces from a 19 year career - in one place, is to really able to experience the breadth of his range and the evolution of his vision. The theme of Savage Beauty is romanticism, and it's very accurate to say that McQueen was a Romantic in the, 18th-century English sense of the word. McQueen's entire career was based on aesthetics and playing the the ideas of opposites - beauty and ugliness, light and dark - and he was always attempting to push the boundaries of what was considered appropriate and expected for a fashion designer. Savage Beauty plays upon these concepts and expands upon the romantic theme with six different categories: The Romantic Mind, Romantic Gothic and Cabinet of Curiosities, Romantic Nationalism, Romantic Exoticism, Romantic Primitivism, and Romantic Naturalism. Each room holds a different theme, set of collections and sensory experience, but each is unmistakably, fantastically, redolent of McQueen's spirit and enduring appeal.
The thing about McQueen's work is that the fashion itself is only one element in what were incredibly intricate, theatrically inclined fashion shows. The exhibition acknowledges this fact not only by creating very different environments within which his designs are displayed, but by creating a very particular mood for each room with lights and music, and even by featuring excerpts from some of the shows themselves. This last method was particular interesting to me, both because I had never seen any of the original fashion shows before and because it lends so much more depth to the clothing; as interesting as each piece is alone, it's a completely different thing to see the collections in context. For example, for Romantic Gothic and Cabinet of Curiosities, a room which nicely embodies its Victorian Gothic theme, televisions both broadcast clips from these shows and add an appropriately eerie touch. In another room, a hologram of Pepper's Ghost from the
Windows of Culloden
collection (autumn/winter 2006-07) is surrounded by visitors transfixed by this miniature floating, temporal apparition.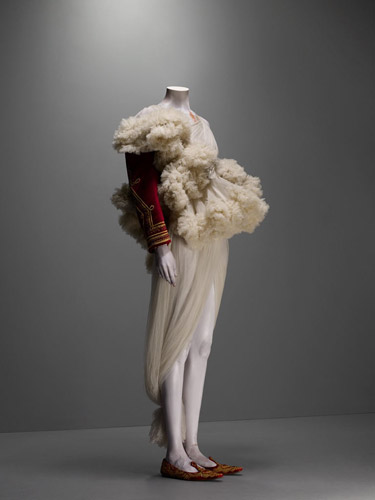 Alexander McQueen, Ensemble, The Girl Who Lived in the Tree collection, autumn/winter 2008–9. Jacket of red silk velvet embroidered with gold bullion and trimmed with white shearling; dress of ivory silk tulle. Photography by Sølve Sundsbø. Courtesy of Alexander McQueen and the Metropolitan Museum of Art, New York.
Unfortunately, you're not the only person who wants to see
Savage Beauty
. It's a shame, because the crowds make it difficult to truly savor all that there is to see. This makes it even more necessary to take a look at the exhibition catalogue, however, which, with its stunning images by
Sølve Sundsbø,
is some of the best fashion photography I've ever seen. It's easy to get caught up in the crush of people without ever looking closely at the stunning sculptural aspects of each outfit, which may be why viewing the catalogue feels like an even more intimate an experience. If you do go to
Savage Beauty
though (and if you can, you definitely should), my advice is to get there early and spend some time marveling at the intricate embroidery, impeccable tailoring or just the sheer amount of detail that has gone into each piece, from a designer whose career was brief but immensely strange and beautiful.